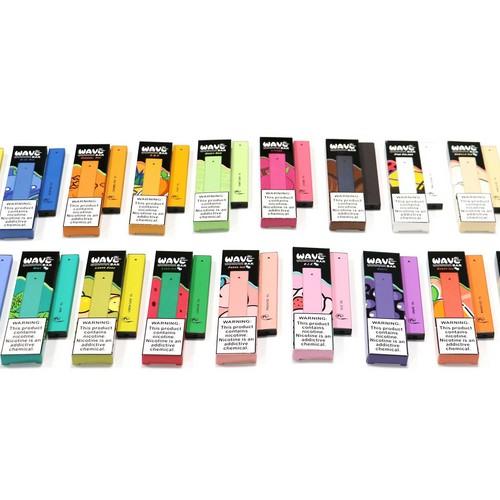 Wave Bar Disposable 5% 10 packs per box is a disposable all-in-one system that does not need for refilling. Each wave bar contains 1.3ml of salt nickel e-juice and is powered by a 280mAh pre-charged battery. Wave Bar disposable provides 300+ puffs per device and has many kinds of flavors. It comes in a package of 10 pieces with a bargain wholesale price.
Specifications:
280mah battery
E-juice capacity: 1.3ml
300+ puffs per device
Disposable
No need for refilling
50mg (5%) salt nicotine
Flavors:
Blue Razz: Blue raspberry candy
Caramel Pop: A sweet and salty treat
Grape: Juicy red grapes
Gummy Ring: Delicious sweet fruity gummy rings
Honeydew: ripe and sweet honeydew
Lemon Cake: A perfect balance of lemon and cake
Lush Ice: Refreshingly icy watermelon
Lychee Ice: Exotic lychee paired with icy tones
Mango Ice: Sweet and juicy mangoes blended with an icy blast
Mint: Minty as can be with a subtle sweetness
Nana Ice: Sweet and ripe banana with an icy exhale
Peach Ice: Juicy and sweet peaches combined with an icy finish
Pina Colada: Exotic mixture of pineapple and coconut
Pineapple: Fresh and sweet pineapple
PMP: The perfect tropical blend of peach, mango, and pineapple
SIC: Strawberry ice cream; sweet strawberries paired with a creamy vanilla taste
Strawberry Mango: The perfect blend of sweet strawberries and ripe mangoes
Tobacco: Bold and flavorful tobacco with every hit
Vanilla Ice: Creamy vanilla paired well with an icy blast
Customer Questions:

There were no questions yet.
Ask your question:
Customer Reviews:
Be the first to review this product.

Leave a review: